2022 Year of the Tiger Zodiac: A Review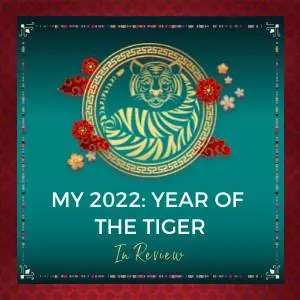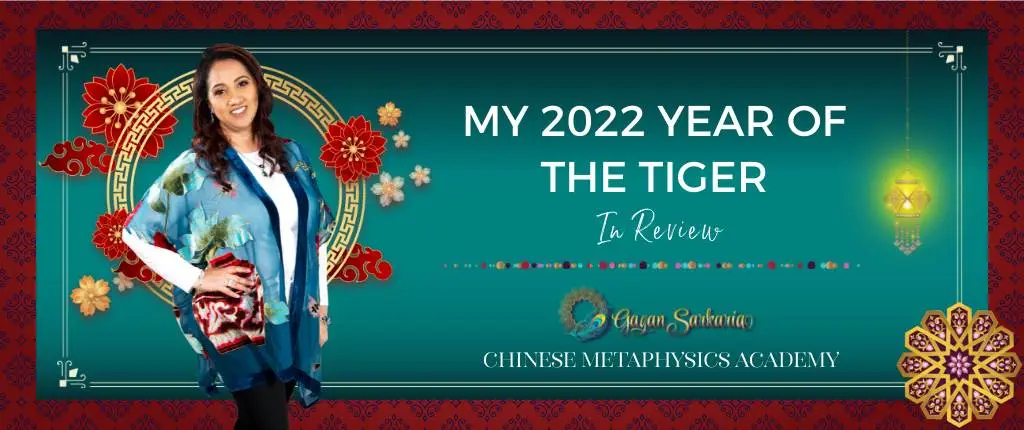 The 2022 year of the Tiger zodiac was a rollercoaster year for many. After a year of hardships, I am back and better than ever! With the insightful forecast from my Annual 2022 birth chart, I knew I was in for quite the ride. Despite life's unpredictable turns and emotional dips, I'm proud to say that I've come out on the other side with a better understanding of myself and my family. With more purpose than ever, I'm even more passionate about helping others reach their success and growth goals. Let's get out there and make this upcoming year our best yet!
I created the Achiever's Guide with one goal: Your Success. Helping you maneuver through the ups and downs of life, career, business, and health is my mission. I aim to help you manifest your abundance, achieve your goals, and reach success. Various Chinese Metaphysics modalities provide a way to access the Qi of the environment, allowing you to take advantage of present conditions to achieve desired outcomes within your capabilities.
Why should you focus on the Annual energies to plan your year?
For centuries, Chinese astrologers have studied celestial bodies' motion and noted any alterations it has on our Universe. Even today, they use their observations to identify patterns in nature. These recurring phenomena help them form predictions about our future. For instance, the Oxen years are associated with continuous prosperity, expansion, or steady growth. In contrast, Tiger years can bring about potential risks and political upheaval. In Pig years, the population booms, while under the tricky Monkey, though our plans may go sideways, scientific advances and technological innovations take a quantum leap forward.
By studying each Animal year's specific influences and energies, we can prepare for the trends that may affect all global matters — politically, economically, socially, and financially. In doing so, we can elevate our lives and strategically plan for our growth and recovery.
What is Tai Sui in Chinese Astrology?
Tai Sui is a concept in Chinese astrology that refers to the annual spirit of time and space. This spiritual entity is believed to be responsible for influencing the fortunes of people born in a particular year. According to ancient Chinese beliefs, Tai Sui brings both luck and misfortune. Knowing and understanding Tai Sui can help one make better decisions regarding their life's path and planning for success in a year based on their annual life map readings.
It is believed that the twelve Chinese zodiac animals were associated with the 12-month orbit of this star around the sun. This has been a tradition in China for centuries. Therefore, every year there is an animal Zodiac that is considered Tai Sui and zodiac signs that clash with Tai Sui accordingly. For example, in the Chinese calendar, 2022 was the Year of the Tiger, so those born during the Monkey, Snake, and Pig years clashed with 2022 Tai Sui.
2022 The Year of the Tiger Zodiac
Tiger years announce themselves with a roar and bring conflict, devastation, international crisis, and political upheavals. Incidents occur suddenly, giving little warning of their profound impact and unleashing trains of events whose consequences leave humankind reeling for years to come. Only the daring and the brave fare best in Tiger years. And I had to teach my Tiger Zodiac son to be bold, embrace change and be comfortable owning his voice.
Tiger years are no time for the meek and the timid. Grand schemes and extravagant gestures are the order of the day. However, for the impulsive — risks may backfire, but those with nerves of steel will find that the thrill of danger sharpens their appetites and hones their claws. I know what strategic risk-taking can do for you! Emotionally, this was a year for passion and intrigue. Still, those tempted to embark on an illicit fling may experience devastating repercussions of any action taken in the year of the Tiger. It would be best if you also watched out for Zodiac clashes and star afflictions that can disrupt your life.
Overview of my 2022: 
According to my Zi Wei Dou Shu Annual reading, 2022 was my health-focused year. Decade Health Hua Ke Original Health Palace was the Zi Wei Dou Shu Si Hua interpretation of my annual theme for 2022. What does that mean? Hua Ke is the wood element and the fame enhancer. My theme for 2022 was forecasted as health needs help, and fame is in the health or wellness-related sectors.
I had not fallen sick in 7 years, touchwood. I thank my guardian angels and the Universe for blessing and protecting me. If I have a bug or something, I know how to kick it out of my system. It is hard to keep me down. Driven and self-motivated, I rise and resurface again, keep moving is my motto. However, fatigued and exhausted from the last 7 years, I fell sick 7 times in 2022. Four times in the first quarter, once in summer, three weeks in September, and two days in November. Each time, the recovery was faster using Chinese Metaphysics modalities and evidence-based, frequency medicine tools that help protect, recover, and perform better each day.
January 2022 was Lunar Month 12 of 2021, the Ox month. I am an Ox, and the Ox month was the hardest for me during my Tai Sui year. My 74-year-old mother slipped and shattered her ankle. She was rushed to ER for emergency surgery. She was in the hospital for four days, and what I assumed would be my 1-month pause from sending my eNews letters and working on my content, business, and being in touch with you all, quickly became a year sabbatical. The first quarter of 2022 was focused on getting my mom back on her feet and making her recovery faster and smoother. 
She fully recovered in 6 months, and I am proud of her for having an optimistic and determined mind-body and soul connection.
February 1st, 2022, ushered in the year of the Water Tiger. The last time the Water Tiger ruled the energy of the year was in 1962. The Tai Sui of 2022 brought transformations and challenges for the Tigers, Pig, Snake, and Monkey Zodiac. I have all these 4 Animal signs in my family. Managing the ups and downs each month took a lot out of me for the first 5 months. There was so much change, and I had to adjust my inner and outer environments to strategically manage the energy flow.
By mid-year, I had rediscovered my drive, energy, focus, and learning and sharpened my skills in manifesting, astrology readings, and growing my businesses. I took advanced classes and finished about 90% of my coursework toward my doctorate in metaphysical sciences. The last 6 months of the lunar year 2022 — August 6th to January 21st, 2023 were dedicated to a comeback year and becoming foundationally stronger.
End of August, I lost a dear friend and a trusted partner in my business. His sudden and unexpected death triggered hidden trauma and grief that I had not processed for 11 years. September was focused on healing and self-care, inner reflection on where and how I wanted to grow. The last quarter of 2022 was dedicated to reinventing myself. 2023 is a transitional year for me and many who want to be unstoppable for Period 9, which will usher in a new era for the next 20-plus years.
Despite the drastic ups and downs and being on a sabbatical from coaching work, below are some of my significant high achievements for 2022:
I doubled my Chefs For Seniors North Texas business from 2021 to 2022.

We cooked 858 healthy and nutritious meals for the seniors in North Texas.

I had five wellness clients with chronic discomfort, turning their health and well-being 180 degrees towards the positive side.

We successfully launched the UnfoldYourHealth.com website.

We wrote over 500K words of content in 2022.

Grew my internal team from 1 part-time employee to five full-time virtual employees.

Added nutraceutical vitamins and supplements to my business.

I added PEMA therapy tools to my wellness side of the business and experienced some fantastic personal results. 

Grew my affiliate team to 7 sharp and determined partners.

Did the Abundance Manifestation Course three times with a small cohort and experienced powerful shifts to manifest 100% income goals.
I published 8 new blogs related to QiMen Dun Jia and Feng Shui on my website.
I also published 3 new wellness-related blogs on my unfold your health website.

Developed amazing heart-felt international friendships and partnerships, widening my circle of influence.

Successfully performed strategic execution business consulting work using Chinese Metaphysics for several clients nationally and internationally.
Soulful word for the year
Since 2016, I have been using the framework of infusing one word for the year concept to achieve my goals. I teach my clients the same framework so they can create and stay focused on their path each year. Reflecting, the power of the one word you assign your year and infusing your intention can be your anchor. It can guide you to push forth during your struggling months, weeks, days, or quarters. I can sum up my last 7 years in the following words:
2016: Focus

2017: Momentum

2018: Expansion

2019: Cultivate

2020: Visibility

2021: Abundance

2022: Abundant-Growth

My one word for 2023 is Elevate.
On January 1st, 2023, during the auspicious hours, I wrote my story about what will unfold for me in 2023. It is like I am my documentary's creative screenwriter, cinematographer, producer, director, and actor! It details what I want to accomplish, why, and how I will command the Universe to manifest my abundance. Remember, nothing is free in the Universe. You must match the energy in the same wavelength and intensity if you have some big and bold goals!
In 21 days, I have manifested one of the BIG goals I wrote in my story on January 1st. More about this will be revealed in the upcoming eNews and announcements. Now enough of me. I want to hear from you. What have you been up to? How was your 2022? What do you want to manifest in 2023? And how can I help you achieve your goals?
Please let me know how you are doing. What's holding you back? My team and I are here to help you! Please shoot me an email, or book a consult. And before I go, below is my gift for you! Download my 2023 Achiever's Guide. I am confident it will help you rediscover yourself.
Until next week, your high achievement coach, Gagan Sarkaria, is signing off.
Are You Ready To Elevate Your Success in the 2023 Rabbit Year?
Do you want to know my predictions for the 2023 Rabbit Year and how you can manifest your goals? What is in store for all the 12 Zodiac Animals? If your answer is yes, then download my 2023 Achiever's Guide! It is FREE for the first 100 downloads. Use the COUPON CODE below. Once the guide is downloaded 100 times, the price will return to $99. First come, first serve! 
The case-sensitive Coupon code to download your Achiever's Guide for free is 2023Gift4Tribe.