Meditation for New Moon January 2023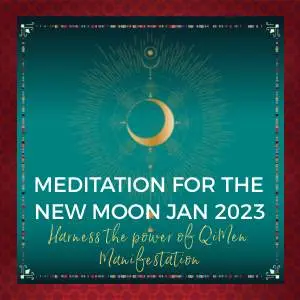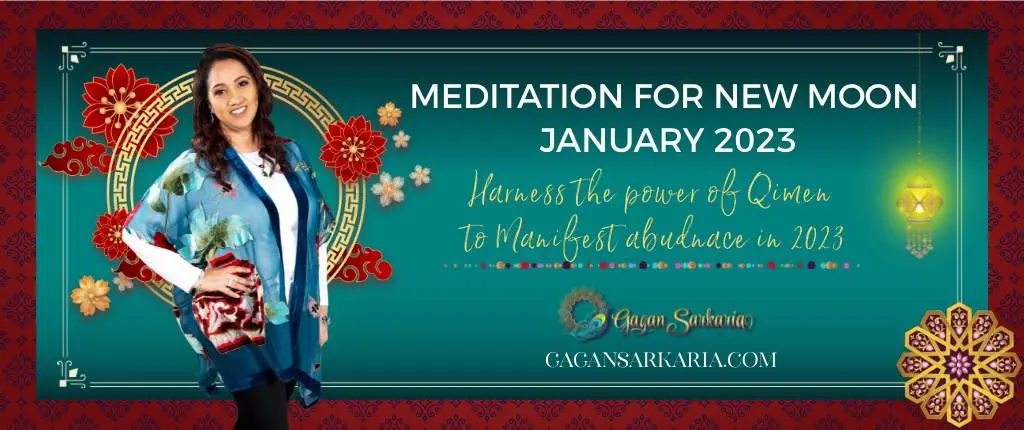 Meditation and Manifestation for the New Moon in January 2023
In this post, I am sharing the gift of New Moon meditation for January 2023. Happy 2023 Chinese New Year to everyone. Welcome the Yin Water Rabbit year energies. The new Lunar year begins on a new Moon Day, which has been completely 'black' and in conjunction with the Sun. And this particular one is special as it is the closest to our Earth in the last 993 years hence is an astronomically special new moon event.
January 22, 2023, is the first day of the new Lunar year. To help you realign and reset the energies for the 2023 Rabbit Year, I want to share the gifts of meditation and abundance manifestation using Qimen Dun Jia, Date Selection, and Feng Shui layered on the Monthly and Day charts for January New Moon.
What does the new Moon signify?
A new moon signifies the beginning of a new monthly cycle. Think of it as a cosmic reset. The new Moon is the time to align your mind, body, and soul with the correct energies for determination, protection, and manifestation. Destiny analysis, strategic Qi Men Dun Jia, Flying Stars, and QiMen Feng Shui are some of my favorite Chinese Metaphysics modalities. I am glad you are here to learn how to realign, redefine, and redesign your destiny in 2023.
Every month, a new moon marks the beginning of a new lunar cycle and is often regarded as an ideal time to pursue new projects and set intentions for the future. It's an excellent opportunity to get creative and manifest what you want. During this moon phase, many people find it beneficial to think about their goals and practice manifestation techniques to feel rejuvenated and motivated. Focusing on these activities will help you progress and manifest your desired life.
January 2023 New Moon
The January new moon provides a unique opportunity to set personal intentions and manifest the possibilities of the upcoming year. It is blessed with fresh-start energy that encourages us to start anew and begin our journey toward achieving our goals.
The January 2023 new Moon reminds you to be true to yourself and reach your goals. It symbolizes a fresh start and encourages you to embrace your individuality as you move forward and manifest your desired future.
This is an incredibly unique moment for all zodiac signs that can help break the chains of outdated beliefs and cultivate a more innovative and futuristic mindset. To use this January new moon's spiritual energy, it might be beneficial to first understand its significance and then follow the instructions below.
Let's begin...
Auspicious dates and times for attracting abundance in your life:
I am sharing the first few auspicious NEW MOON Meditation dates and times for the first few days of the Rabbit Year 2023 using the QiMen Dun Jia Manifestation technique. These dates and times are to help you manifest incredible things this year. I have selected the positive energies from the North Direction, focusing on the Green Dragon Return QiMen formation.
Based on your local time, the auspicious dates and peek energy hours are:
January 22, 2023, between 11 PM – 12 midnight, Chief Deity.

January 23, 2023, between 1:30 – 2:30 PM, with Six Harmony.

January 23, 2023, between 3:30 – 4:30 PM, with Chief.

January 24, 2023, between 11:30 AM – 12:30 PM, with Chief.

January 24, 2023, between 11:30 PM – 12:30 PM, with Six Harmony.

January 25, 2023, between 7:30 AM – 8:30 AM, with Chief.

January 27, between 9:30 AM – 10:30 AM, with Nine Earth. (mighty and multiple positive formations in the North)
You must sit with your back toward the North when meditating during the above-listed dates and times. 2023 is bringing a fresh start and a new moon on January 21. This event is set to ignite excitement and inspiration in all Zodiac Animal signs, urging them to work towards their goals, even if they may be unorthodox or out of the ordinary.
If you are new to QiMen manifestation, start here by understanding Qi Men Dun Jia and how it works!
If you want to find more dates and times, join and subscribe to my Telegram Channel — it's Free.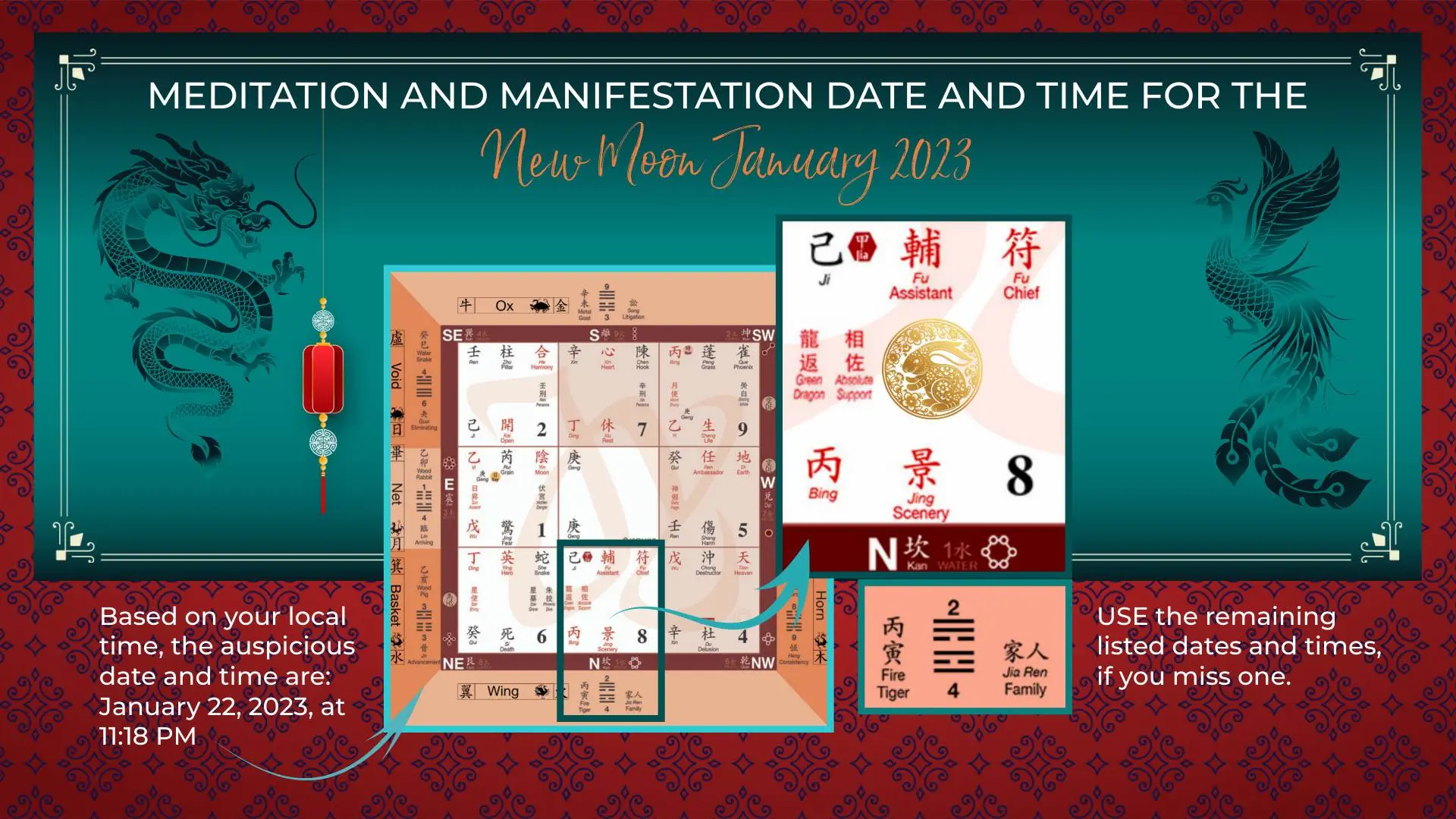 Why the North direction?
I selected the Green Dragon Return formation for the auspicious dates and times. Some are layered with other formulae and configurations, making the dates and times more powerful. For example, on January 22 formation of the Green Dragon Return is with Absolute Support, and the Heavenly Assistant Star signifies ultimate financial achievement, which is much needed in 2023. The Assistant Star with Scenery Door forms the Family Yi Jing Hexagram, which can offer protection and safety for your family as it is supported by the Grand Marshall Qimen Deity — The Chief. The presence of 6 Star with Chief can also help produce breakthroughs and miracles in your life.
New Moon Manifestation Instructions:
Waxing means growing into illumination. The full Moon appears around 15 days after the New Moon, making up half of the lunar cycle. This waxing journey will usher in the opening of a portal of the energies for the Yin Water Rabbit Year of 2023. Therefore, I am sharing the first few days of auspicious dates and times for clearing, healing, getting clarity, and gaining courage for you to get grounded and write your story for 2023. It will be a challenging year for some Chinese Animals Zodiac signs. This is why aligning your meditation practice with the moon cycle phases allows you an additional energy boost to tap into your mind and subconscious.
On January 22, 2023, at 11:18 PM, following your local time, sit down with your back towards the North direction. Close your eyes, count 64 to 1 backward, and calm and relax. Breathe in and breathe out. Repeat a few times. Now visualize the things you want to achieve in 2023. Remember, your desire must be appropriate and within your realm of possibilities. If you have been preparing for massive shifts and jumps to expand your empire, you know that you can match the energy and intensity of what is needed from you!
Use the exact instructions on the remaining dates and times listed above.
Once you can see it happening with your eyes closed, feel it in your body as if the thing you wish for has already happened. Now, slowly open your eyes and write down 3 action steps you will take to bring you closer to your goal. By doing this at the timing stated above, you are attracting powerful and positive NEW MOON Qi Men energy to help you attract protection, abundance, and growth.
This amplified and positive energy is hard to come by, so use this effective date and time to help you get started and aligned correctly for the 2023 year. Moon's energy is amplified; even when we cannot see it, we can feel the intensity. Please share this post with those who need it. 
Wishing you all a happier, healthier, and wholesome 2023 Rabbit year. May this year be full of adventure, blessings, and courage so you can achieve your goals with grace and ease! Happy Chinese New Year. 
Love and blessings, 
Gagan