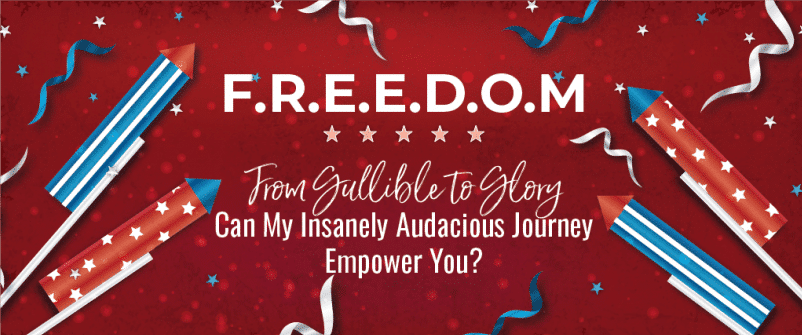 Do you think about your struggles in life, relationships, health, and money? Well, don't we all have a fair share of our challenges to talk about? Let's see if my insanely audacious journey empower you? 20 years, and I am reflecting with gratitude and humility, the meaning of personal FREEDOM.
I want to share 7 empowering lessons learned over the last 2 decades on how you can achieve personal freedom.
Gullible to Glory, The Trigger Point
"I tried."
I saw this handwritten 2-word note on a piece of cardboard with a homeless. Looking at the homeless and reading that note brought tears in my eyes. This middle-aged man wanted money, and I gave him food and water. He happily took my offering and thanked me. Off he went; the traffic light turned green, and I drove back home. The entire drive, I could not stop my tears from pouring down my cheeks, I was overwhelmed and grateful at the same time. After leaving my attorney's office, that message, "I tried" became a trigger point for me. "I tried, I really tried," is what repeatedly played in my head as those tears rolled down.
Growing up in India, I learned not to make fake promises. Follow-through if you commit to something or someone. Don't run away from responsibilities because there are karmic lessons hidden inside them. Hard work pays in the end. Let your work speak for you. Don't fall prey to jealousy that is the first step towards your personal downfall. These were my core empowering lessons. Attitude matters and your character speaks!
Shortcuts to success
I believe there are no shortcuts to success. The only place where success comes before work is the dictionary. In life, we have to work hard and figure out our deepest desires and see if they are the ones we want to convert into our burning obsessions.
On June 19, 2019, I completed my 20 years on this land of opportunities, "the land of the free and the home of the brave" called the United States of America. If there is one lesson that I've learned in the last two decades is that there are incredible opportunities around us if we gather the courage to walk our authentic journey by conquering our fears. No one is born with the confidence to compete, achieve, or thrive. I have learned the true meaning of FREEDOM in the last 2 decades. Today, I want to share that meaning with you all. Hopefully, you will find the message and lessons empowering!
Success is 30% abilities and 70% Yun-Chi
According to Chinese Metaphysics, Success is 30% abilities and 70% Yun-Chi.
A few years ago, when I stumbled upon this proverb, I was fascinated by it. My doctoral research took me on a deeper path to understanding what this equation really means. Abilities are our natural-born talents, and the skill sets that we acquire throughout our life. This is only 30% of the equation for success. For me, 30% will never be anywhere close to accomplishing any sort of success in our lives, careers, relationships, or finances. 70% is Yun-Chi, which is never talked about, explored or understood unless you are sick-and-tired of being sick-and-tired of struggles, challenges, and situations that keep you in the trenches and somehow you never lose hope and faith. That is when something shifts. You will have someone enter your life, share some wisdom, point out a new direction, a new tool or technique, and it clicks.
So what is Yun-Chi? Yun means encircling or the environment — your inner and outer environments — it is the micro and the macrocosm. Chi is your life force energy. The electromagnetic frequency in your body that runs through your complex systems to keep you alive. The force that goes through your 7 chakras, 72,000 meridian points, and emanates in your aura.
Personal Freedom and Connection
Human beings crave personal freedom and connection with others. To what extent, that is a personal preference and choice. Ultimately we all want to be loved, held, supported, and appreciated. When we are in the murky waters, and amid our darkest struggles, the only way we can shine through is via our growth-mindset and forward-thinking actions. Individual freedom is empowering and yet extremely hard to achieve.
Personal freedom can be achieved if we can persevere. When you fall, can you gather the courage to stand up and dust off and start again? Most people, after they fall, face adversity don't get up, and very few will try after their second big challenge or loss in life. And then there are rare kinds who gather all their strength and courage and keep trying, no matter how many times they fail or fall. They have an inner drive that keeps them going, and that is usually when they have moved up from their primary, materialistic needs and started their quest for something more meaningful. When they seek to solve problems rather than wallow in self-pity. They search for alternative methods to heal and bring peace and calm back in their lives.
The Change Curve
The Change Curve model describes the four stages most people go through as they adjust to change. These are status quo, disruption, exploration, and rebuilding. Those who master the reactions associated with these four stages: shock or denial, fear and/or anger, acceptance, and commitment become champions of change and master the skillset to bounce back. Those in my eyes are the real heroes, real achievers in life. My deepest gratitude for these folks.
And then there are ordinary people with extraordinary heart and drive — a mother who raises her kids alone, despite her anger and frustrations, while the husband works all the time, overseas or serves the nation, a wife who is creative and a multi-tasker who manages the household and her career to support the household and her husband's career advancements, a friend who calls or texts in the middle of the night to cheer you up, a stranger who gives away her entire lunch to a homeless. Have you ever done that in your life?
A friend, colleague or an acquaintance who remembers you after 20 years and finds you on Facebook and makes an effort to call you to reconnect and gives you a shoulder to cry on by listening to your challenges and offers support despite a 2-decade gap. A mentor who is always willing to support, guide, and offer advice no matter what time, day or season of life you are in. A team member who goes above and beyond in work and also provides care and entertainment to your kids over the summer so you can meet client deadlines. The list goes on. Do you have such heroes and she-roes in your lives?
Vulnerability and Strength
Even though the first digit of my Soul Code is a 9, which is all about the heart, I somehow find the courage to carry on. I have had a fair share of my heart-aches in life. Love has made me vulnerable, which also makes me stronger. Forgiveness and compassion are learning lessons on my personal journey. Our personal commitment to growth allows us to boost and flourish on our delightful path ahead. Though we are all grateful for our FREEDOM, whether here in the US or anywhere else in the world, the meaning of personal freedom changes for people as they transition through their own decade cycles.
So as I am wrapping up this message, adding some last-minute touches, I can hear and see the fireworks from my window. Oh my, the memory of my first celebration, holiday, fireworks from the 4th of July, 1999 is still fresh in my heart. It is a bitter-sweet moment today as the people I celebrated with then are not in my life today. Some, with time, went on separate paths, and others chose to walk separately. Though I am nostalgic, I also am optimistic and trust the Universe. There are no coincidences in life. Though I am a bit sad, I am also excited for the next 20 years.
Who has your back?
As many of us are celebrating the 4th of July Independence Day in the US, I want to share my lessons and wisdom around freedom that I have earned in these 20 years here. I hope to assist and guide those who are ready to vibrate at a higher level to embrace the new positivity coming their way. Though I have been gullible, the Higher Intelligence has always had my back, guided, and protected me. My prayer is for you, who are reading that my words will infuse life into you and empower you to walk YOUR audacious journey with grace and ease!
The Seven Lessons on Freedom
Below are the 7 key empowering messages and lessons learned that fit the acronym F.R.E.E.D.O.M., which will empower you! So grab your journals, a cup of coffee or tea, and take notes! And here it goes...
F.R.E.E.D.O.M:
F stands for "Follow Your Heart, And You Will Not Regret It."
R stands for "Responsibilities Are Rewarding If You Positively Fulfill Them."
E stands for "Energy Medicine Can Astoundingly Help Us All."
E stands for "Empower Others, And You Can Gain Fulfillment In Life."
D stands for "Discover Your Life Map To Gain Perspective On Your Life Path."
O stands for "Opportunities To Grow Are All Around You."
M stands for "Money Challenges Insert Fear In Our Growth."
Over the next few days, I will be sharing details on these 7 core empowering lessons with you all. So stay connected!
Until next time,
Sending blessings and brilliance your way!
Love,
Gagan Sarkaria — Your Soulful Business, Branding & Money Coach
P.S.: If this message touched your heart, please share it with your tribe or a loved one who might need it.

Want More Wisdom
Read Other Posts