How the Annual Zi Wei Dou Shu Chart Interpretation enhances your wealth and career within a month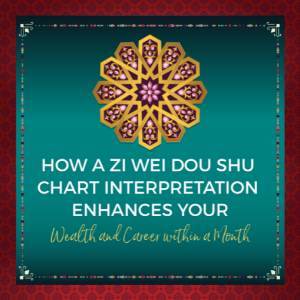 One of the most common questions is how you can use Zi Wei Dou Shu chart interpretation within a month or over a year to plan and enhance your wealth and career. Many of my new clients are coming out of the pandemic and working towards business or career recovery. Others are looking for a side gig or wanting to start a business.
Despite holding various positions in the workforce, I've been an entrepreneur my entire life. I believe in education, professional knowledge, personal development, and entrepreneurship. Stick around, and I will walk you through how I make a Zi Wei Dou Shu interpretation of the Palaces within a month. The insights can enhance your success in wealth, money, relationships, or career and help you find your personal Woo-Wei, which means when to ebb and when to flow.
ZWDS Chinese Astrology destiny science has been my secret weapon for over 5 years now. You can plan and take action using your Annual Zi Wei Dou Shu interpretation.
What can Monthly ZWDS chart interpretation reveal for you?
Monthly assessments can allow you to persevere through challenging times, thrive during the peak seasons or days in the month, and build your career and businesses with grace and ease.
I regularly coach clients using their personal Zi Wei Dou Shu decade and monthly assessments. This has allowed some miraculous breakthroughs and remarkable results in my clients' wealth and career aspects.
In some cases, my clients have:
won legal battles,
divorce proceedings,
quadrupled their businesses,
purchased their dream homes,
launched their books,
hired better employees,
gained promotions at their jobs,
opened new businesses,
regained their health and family times,
all based on their personal ZWDS chart readings. These results were no different, even during the pandemic last year. My heart goes out to all who lost so much in 2020. However, we often forget to count our blessings and seek regular guidance to continue to build a life of integrity, joy, and wholeness.
Watch the video to learn more or keep reading.
Using Zi Wei Dou Shu Chart Interpretation to plan life
Zi Wei Dou Shu chart interpretation over a year, quarter, or within a month allows you to see things and plan your actions accordingly. There is no 100% accuracy in any form of astrology or metaphysical modality because the experts reading the charts are humans.
Astrology charts can be plotted using apps and calculators now, but reading, assessment, and forecasting are still done by humans. Zi Wei Dou Shu's accuracy provides details and specificity, unlike BaZi, and makes it an excellent tool. With ZWDS interpretation of your chart, you can gain clarity and achieve the results that blow your lid off.
I will be the first to tell you that if you have a burning desire to start a business, you must. No matter what season of life you are in, what skills or talents you have, you must focus on the following 5 Bs.
Brand, Business, Book, Buying Behaviors, and Body
Focus and develop your brand. There is a difference between brand development, branding, and marketing. I have written a blog about the distinction between the three.
Start and grow a business. Your ZWDS chart interpretation can shed light on when, how, where, with whom, and why you need to follow your heart.
Write your book; you have a story to tell. Imagine if your experiences can impact, change, save, motivate, inspire one life on this planet. Would you be willing to make a difference?
Learn the science of buying behaviors. At the end of the day, you have to learn to sell. Zi Wei Dou Shu stars can help interpret the details as to what you need to focus on and what directions to enhance to activate your wealth and career luck.
Take care of your mind, body, and soul. We often get stuck in the rat race, are sleep deprived, and do not know how to manage the daily stressors of our lives. As a result, we can neglect and abuse our physical, mental, emotional, and spiritual wellbeing. You know you need to meditate, eat well, exercise, but don't. With time depression, obesity, or other diseases take over. Most people do not find the root cause of their diseases and issues or go the alternative route to take charge, and redesign their destiny. Zi Wei Dou Shu chart interpretation can assess these unseen issues for you.
No matter how the star formations are on your Zi Wei Dou Shu Chart, with the help of the right coach and ZWDS Master, you can use the knowledge to gain insights and apply it to your advantage.
Zi Wei Dou Shu Chart Interpretation can reveal business partnerships
Developing your career or business requires partnerships with other people. Maybe you need to hire employees or contractors, or need investors, funding, or are struggling with your target audience.
There is a way to quickly decipher who (which Zodiac) you should NOT partner with when doing business. This is because you will either lose money or a particular Zodiac will make you spend more money. There is one out of the twelve Chinese Zodiac Animals that you need to be aware of. We all have one on our chart to be mindful of.
Which Chinese Zodiac on ZWDS chart will make you lose money?
For this information, you need to identify the Wu Qu Star on your ZWDS chart. Then find the fly out of Hua Ji to Wu Qu. This will be the Heavenly Stem of Ren. Now, identify the Earthly Branch (Zodiac) of Ren Stem on your chart. This is the Zodiac you need to be careful of as it Hua Ji to Wu Qu, meaning that you will lose money or spend money because of this Zodiac.
For example, in one of the sample charts below, Wu Qu in Hai Palace has a Hua Ji coming from Dragon Zodiac, Ren Chen. This native must not do business with or hire employees of Dragon Zodiac. Look at another sample chart and point out Wu Qu Star. Then find the Ren Heavenly Stem that sends a Hua Ji to Wu Qu. The Earthly Branch of Ren Heavenly Stem is the Zodiac animal you need to remember.
Another aspect of digging deeper is to identify your supporters and noblemen based on your ZWDS chart. This is not generic information. It is the Zi Wei Dou Shu accuracy found on your chart.
For example, generally, an Ox and Goat are considered a direct clash on a ZWDS chart. But if you are an Ox, maybe the Si Hua fly-outs from Goat Palace are auspicious to your Wealth, Career, Property. Identifying these noblemen or Chinese Zodiac natives will help guide you to accomplish your career and wealth goals.
Sample ZWDS Chart Wu Qu in Hai Palace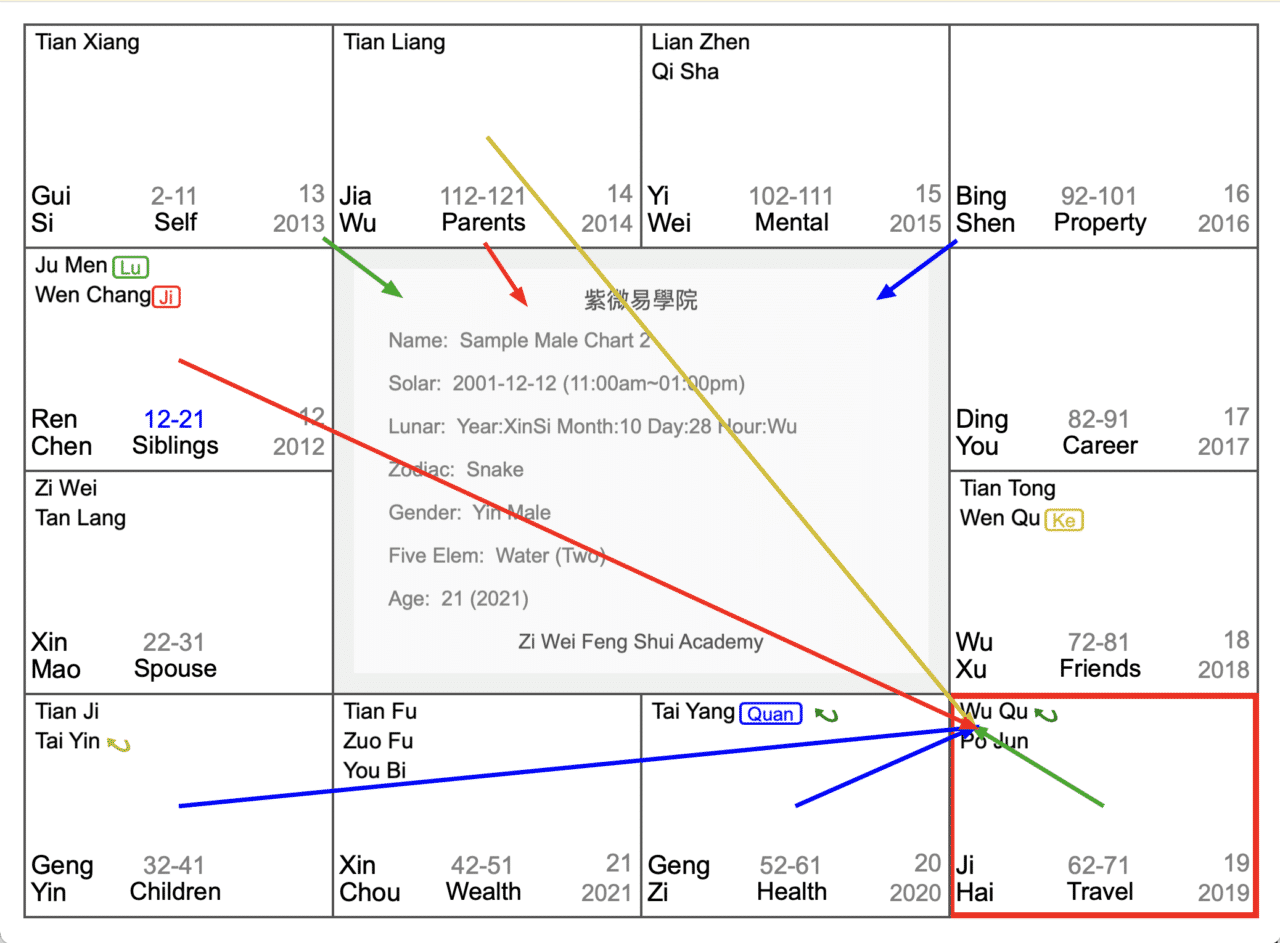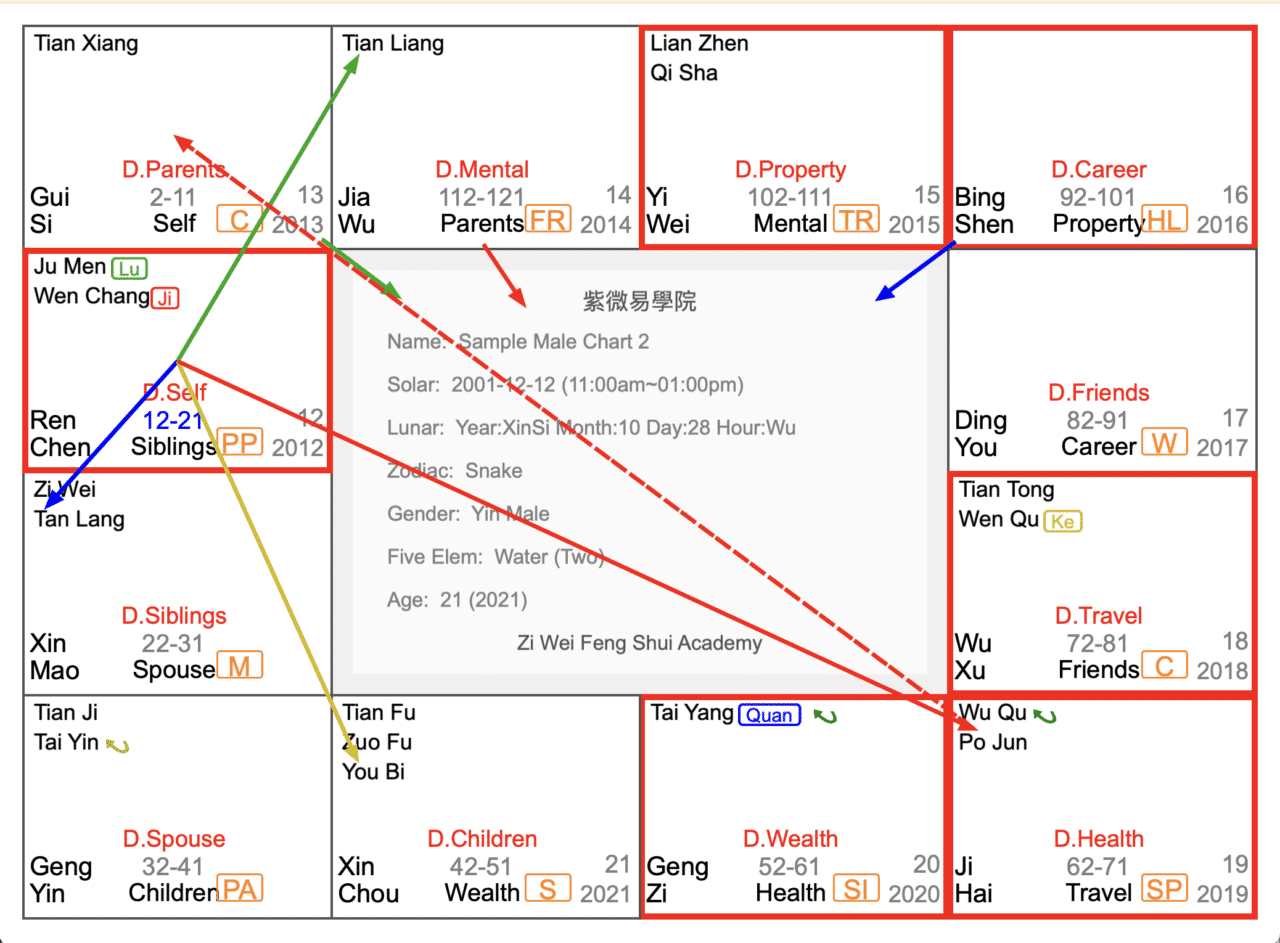 Sample ZWDS Chart Wu Qu in Wu Palace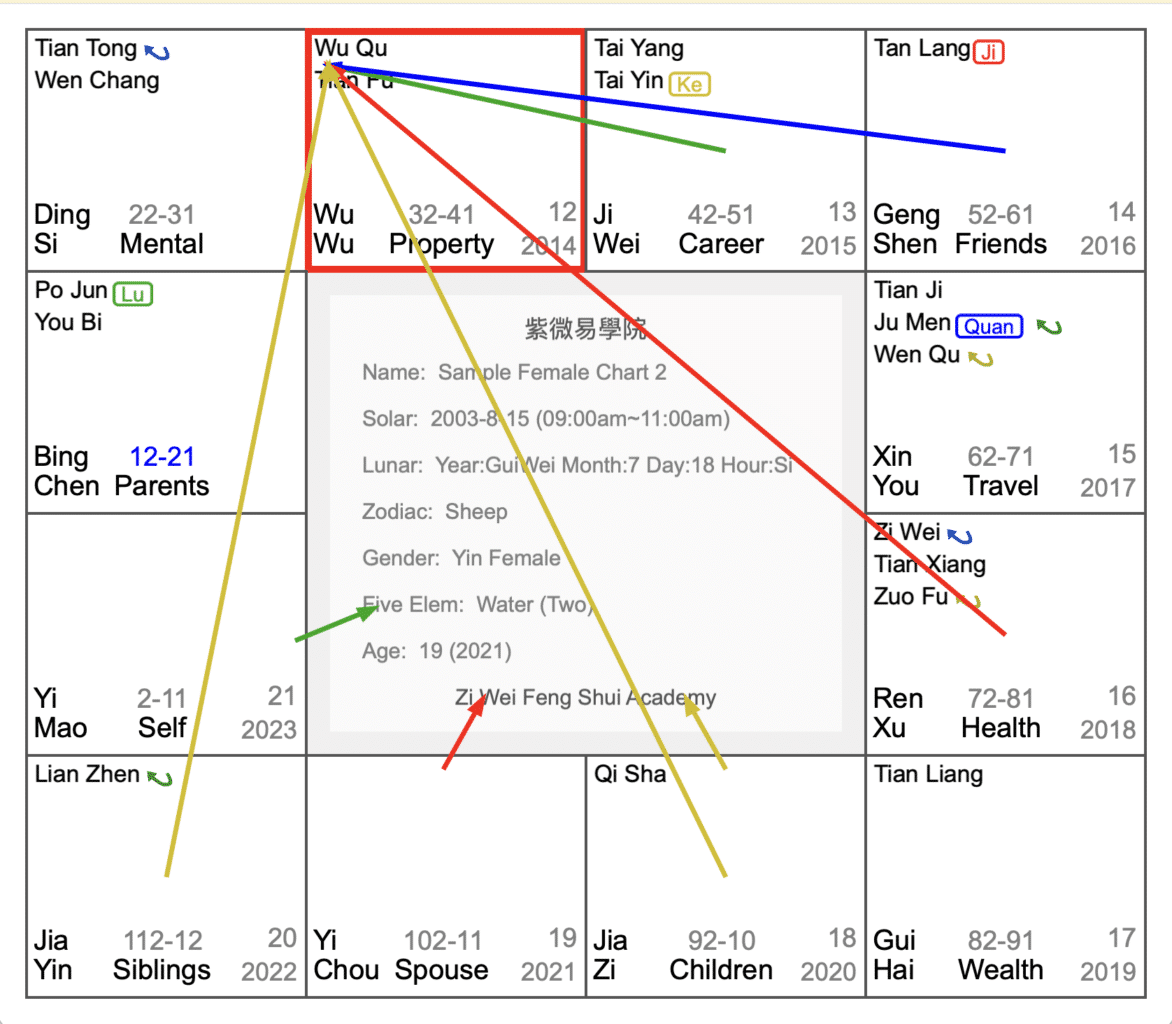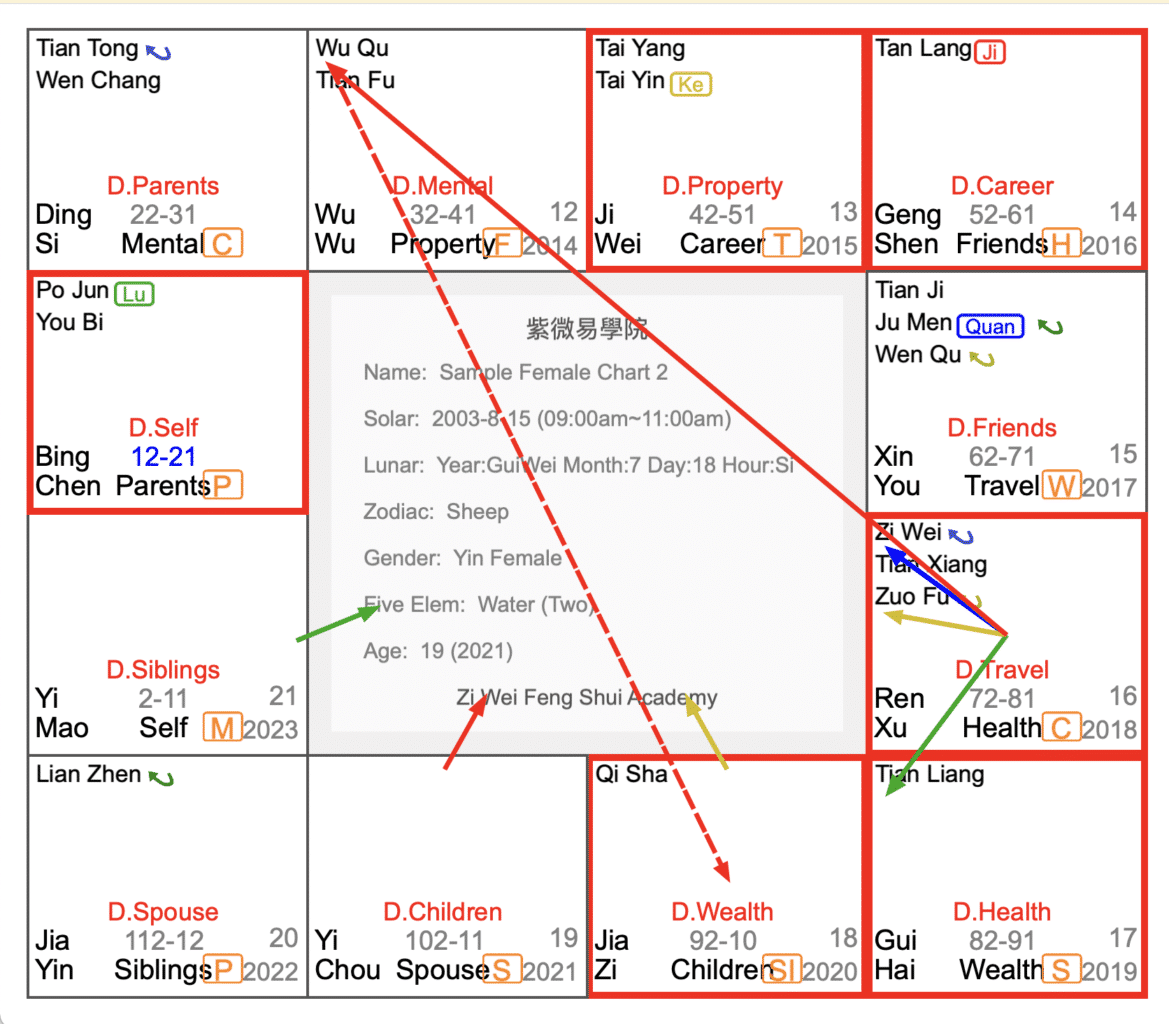 How can you plan your month using Annual Zi Wei Dou Shu chart?
Let me give you an example of how I use my annual Zi Wei Dou Shu chart interpretation and monthly assessments.
The 12 ZWDS Palaces and the interpalatial dynamics on my astrological chart allow me to plan important tasks based on the Chinese Lunar Calendar.
For example, During the Lunar Month 4, on my monthly chart, I've shifted to my Annual Mental Palace. It makes complete sense to me, considering I've taken on a host of new clients this month, which brings with it an increase in mental activities, stress, and opportunities for indirect wealth.
Finding the trend of your financial situation within a month
Below, I will walk you through how I plan the quarters or months in my life and business.
My Month 4 is Mental Palace, tucked underneath is my Decade Wealth Palace, which sits in the Mao (rabbit) direction - my Natal Life Palace or Self Palace. This is how we use interpalatial dynamics and the 3 charts overlaid.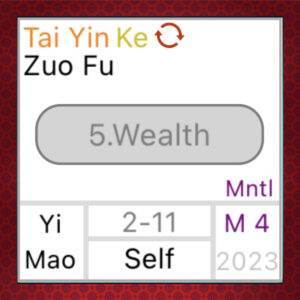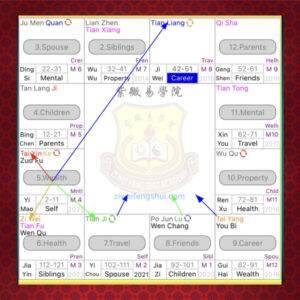 So my month 4 theme is determined by the flyouts of the 4 Transformers, Si Hua. These are the Annual Mental Hua Lu to Decade Travel, Hua Ji to Decade Wealth, Hua Ke to Decade Health, and Hua Quan to Decade Self.
So what does this mean? Well, four Palaces are affected or impacted or will create opportunities for me. When timed right within the month and aligned with these possibilities shown on the chart, I could manifest abundance differently. These events are fated, set in stone.
The question and secrets to achieving success are timing, energy, and action. When we blend and align positive energy with the right timing and take action, that's when the abundance manifestation occurs.
The 4 Palaces I need to look at or focus on this month are
Health Palace,
Wealth Palace,
Life or Self Palace, and
Travel Palace.
And that's precisely how I have planned my calendar and activities for my lunar month 4.
Travel Palace
Travel also means the use of technology or leaving the house to do something. You may not know, but I have reopened my Chefs For Seniors North Texas Franchise. We started servicing Seniors (elderly clients) during lunar month 4. It is taking me out of the house to meet and service new clients. We also have new digital marketing projects come in, and that's what we are focusing on.
Mental Palace
Mental stress is the underlying theme as well, caused either by myself (self-afflicted) or by females around me or a client. Yes, I have had a new female client who is not my ideal client for Chefs For Seniors, and I know this is causing me some uneasiness and stress. I am sure she is a short-term client and will not last long with me.
Life or Self Palace
The other aspect is my own understanding and reflection. And my courage to dig deeper to get to the source of what stories I am playing in my head that cause emotional distress.
In either case, understanding my current state of mind and situation or environment can help me mitigate the effects or impact of Hua Ji. Now the good news is that Hua Ji to wealth can create good outcomes if appropriately managed. And Lu always follows Ji. If Hua Lu is the beginning, Hua Ji is the end. So the concept is that whatever starts or begins in life will come to an end. And look at the bright side as an ending gives birth to a new beginning.
Health Palace
Let's move on. Hua Ke to Health Palace could mean fame or recognition in the field of health and wellness. Or my health is improving or becoming my focus. Zi Wei star means the emperor; however, it is lonely. So the feeling of loneliness can heighten, emotionality can surface more than it usually does.
Annual Mental Hua Quan to Decade Self means my mindset and focus will give me a boost in a powerful position, primarily related to my career.
What does mental stress mean in the annual ZWDS chart interpretation?
I would change the word "stress" to extra mental activities, management, and/or creative thinking. With this activity comes stress, so managing mental stress is crucial to growth and manifesting abundance.
Mental Palace is about your mental thoughts. Mental health, Indirect Wealth, internal health and sickness, and Brightness Line (one of the 6 crucial lines to identify, as the mental palace and health palaces are ALWAYS opposite of each other).
​I want to express that this process of Zi Wei Dou Shu chart interpretation and application has to build upon each month. That is what makes this journey of understanding your ZWDS chart fascinating to me!
An example was that Lunar Month 3 was my Annual Parents Palace. Now Parents Palace is about your parents, especially your father, your mentors or seniors, or father figures - people in your life you hold deep regard for. It was not a random wake-up call that I decided to relaunch my Chefs For Seniors North Texas Franchise in my Lunar Month 3 Parents Palace.
​​When using the interchange or interpalatial dynamics, the function of Parents Palace is to identify your friends' wealth and your Debt Collection strength or energy on the chart. Remember, it is all about timing. I have a client who also signed off on his Divorce Decree in his Lunar month 3. His ex-spouse agreed to pay him all the monies she owes my client related to divorce proceedings, which is a significant amount in debt collection.
Learning to interpret your own ZWDS chart
If you're looking to learn and master Zi Wei Dou Shu for yourself or to use in your own business or career to help others, be sure to get on the waitlist for the Zi Wei Dou Shu course. This course will allow you to master the basics of reading a chart.
If you'd like to be among the first to hear when the Zi Wei Dou Shu course officially opens, register your interest.
In the meantime, get the Beginners' Guide To Zi Wei Dou Shu below.
It outlines how the stars and palaces work to create a reading.